Traditional Brewing Art of Taiwan Black Bean Soy Sauce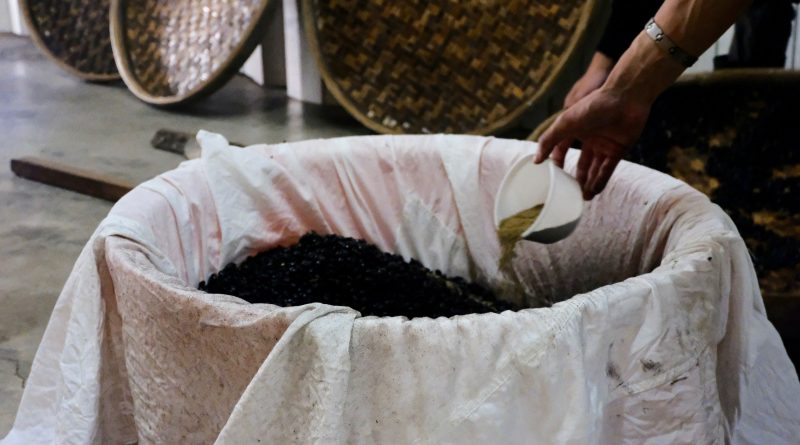 Reporters/Lee Ghai Xin, Chrissy Low Chu Yee
Indispensable to daily cooking, especially among Chinese, soy sauce has become a crucial seasoning in cooking Chinese dishes.  Black bean or soybean sauces have evolved as time passes with people nowadays usually prefer buying soy sauce sold in supermarkets at affordable prices.  In fact, most of these low-priced soy sauce consist of harmful additives that might endanger our health.  Over the past few years, food safety issues have attracted a lot of attention in Taiwan.  In the wake of safety-related food scandals, people began to pay attention to the importance of food labeling, food additives and the like.  As a result, traditional handmade soy sauce industry is valued by many.
Traditional Black Bean Sauces are Commonly Found in Xiluo, Central Taiwan
With sign boards advertising various brands of black bean soy sauce along the streets, Xiluo, an urban township in Yunlin County, is known for the manufacturing of traditional black bean soy sauce.  Traditional soy sauce is mostly made with a mixture of black beans or soybeans, mold, salt and water, which is aged for more than six months.  The resulting mash is then pressed, and the soy sauce liquid is pasteurized and bottled.  Owner of Yu-Ding-Shing (御鼎興), a black bean soy sauce factory, which is now run by the third generation, insists on sticking to the ancient brewing method since 1958.  Starting from choosing black beans to aging fermentation and wood firing the soy sauce, everything is done with bare hands.  "Our handmade soy sauce is indeed a masterpiece," Xie Yi Zhe (謝宜哲), the third generation of Yu-Ding-Shing said.  He further explained that compared to soy sauce produced by machine, it is fair to say that handmade soy sauce is unique and unparallel.
Taking a close look at the manufacturing of soy sauce, one can tell that the selection of east-northern black beans from China (東北青仁黑豆) and black soybeans Tainan 5 (台南5號黃仁黑豆) is the key to ensure the authentic taste of Taiwan black bean soy sauce.  According to Xie, east-northern black bean has a strong aroma, while black soybean Tainan 5 is rich in protein, which gives a savory taste to the soy sauce.  Among other things, soy sauces fermented in giant ceramic urns that have been used for decades is an important factor to brew good soy sauce, as the aroma thickens and is enhanced over time. 
From the perspective of Yu-Ding-Shing, "Passing down the tradition" is the tenet they abide by.  Take for instance, although wood-firing soy sauce is a time-consuming process, it is nevertheless a way to elevate vintage brewing culture.  Unlike Yu-Ding-Shing, Lee's Traditional Black Bean Soy Sauce (關西李記) manufacturers prefer to brew their soy sauce in modern ways, using gas stoves.  Lee Jih Shin (李日興), owner of Lee's Traditional Black Bean Soy Sauce stated that by using gas stoves, the duration and degree of cooking or heating can be easily controlled.  This can also prevent the soy sauce from undergoing Maillard reaction at certain temperatures which might produce cancer causing carcinogens. 
Soy Sauce Made with Love
Lee, who is in his 60s, is in fact a violin expert.  He has won Taiwan Craft Award years ago and has started his career as a traditional black bean soy sauce maker after his mother was diagnosed with kidney disease.  He took up the responsibility of taking care of his sick mother by paying close attention to her daily diet. Since it is hard for his mother not to consume any soy sauce, a naturally brewed soy sauce without excessive food additives became a better replacement after all.
From a rookie to a master of soy sauce maker, Lee did a lot of research in order to produce premium quality soy sauce.  God helps those who help themselves.  After spending approximately two years visiting numerous soy sauce factories, as well as engaging in advanced study, Lee discovered that brewing black bean soy sauce in an alternative way could be feasible.  In pace with the evolution of time, environment, quality of air and climate change, while preserving the tradition of his ancestors, Lee is more than willing to develop good quality black bean soy sauce.  For safety reason, he spares no effort in using refined salt, pure mountain spring water, granulated sugar and black bean, "To prevent customers from heavy metal poisoning due to water pollution, we decided to use quality ingredients," he stressed.
Purity and simplicity are what Lee adheres to in manufacturing high quality soy sauce.  According to Lee, the soy sauce manufactured by this factory illustrates the idea of 3F: Filial, Focus and Faithful. "The success in my career, I would say, is a gift from my mom," Lee stated.  To pass down this concept, Lee offers DIY classes and also cooperates with diverse institutions to give lectures on how to brew good quality soy sauce.  As a Guanxi-based soy sauce manufacturer, he has also made a contribution to the local community by promoting crops grown by local farmers, and also introducing to the public new black bean soy sauce flavored with grass jelly and almond mushroom. 
From Food Safety to Food Sovereignty
"Food acts as a medium to get people connected," said Xie Yi Zhe's elder brother, Xie Yi Cheng (謝宜澂).  Both Yi Zhe and Yi Cheng plan to establish Taiwanese food culture through food produced locally: Taiwanese black bean soy sauce.  They also intend to launch up to 100 unprecedented flavors of soy sauce, including the upcoming soy sauce which now remains undisclosed, and to arouse the society's concern about "food sovereignty (食物主權)."  Moreover, they collaborate with a Taiwan based French cuisine chef, Yin-Chen Chou (阿辰師), to present a series of soy sauce to be used in French cuisine.  As a punctilious chef who treasures the source of ingredients, Chef Chou thought that working with Yu-Ding-Shing in this project gives him the opportunity to get to know the art of soy sauce brewing.  Chou is in favor of using soy sauce as a seasoning in his cooking, and it is his desire to help promote the Taiwan black bean soy sauce to the foreigners.  He stated that the best way to distinguish traditional black bean soy sauce from ordinary soy sauce sold in the market is to let his customers try it.  "Never try, never know," he said.
Heir of Handmade Black Bean Soy Sauce    

   
In this digital age, most of the conventional industries, especially those requiring consummate skills, fail to be handed down from the past generations. Fortunately, Jacky Lee, son of Lee Jih Shin, and Yi Zhe, son of Xie Yu Du (謝裕讀), the third generation of Yu-Ding-Shing, will respectively be the successors after their fathers retire.  "At first, I refused to take over the family business and become a soy sauce brewer," Jacky claimed.  But as time went by, he came up with a different point of view.  When his parents grew old, he decided to follow in his father's footsteps in brewing traditional soy sauce.  "Launching a career is never easy.  It's sort of a mission now for me to carry on what my father has started so that his painstaking efforts will not go in vain," Jacky stressed.
"We are brought up in an environment filled with soy sauce," Yi Zhe said.  In fact, he acquired the skill of soy sauce making at a young tender age.  Then, he happened to find his passion in this field.  Looking at the bright side, he sees an integration between his interest and his career as he utilizes his photography skill to develop the so called "soy sauce aesthetics" which gives him a sense of self-fulfillment.  In fact, being a soy sauce maker could be lonely, since all brewing stages are self-reliant at times.  "I realized that it's easier for me to concentrate in silence," he uttered. 
Black bean soy sauce is not only a special soy product of Taiwan, but has also played an important role in Chinese cuisine since it is a common condiment and seasoning.  From the selection of ingredients to the brewing method, making black bean soy sauce in a traditional way is time-consuming and requires brewing skills.  There are several traditional handmade black bean soy sauce factories in Taiwan with each of them boasting different ancestral brewing recipes and techniques.  One thing for sure, handmade black bean soy sauce not only carries the traditional brewing skills of soy sauce in Taiwan, but also represents the food culture of Taiwan in all ages.  With the rising awareness of healthy eating culture and food sovereignty, Taiwan's traditional handmade black bean soy sauce will certainly gain public's attention and win the hearts of those who prefer quality products.