Have You "Taobao" today? New Choice of Shopping: Creative Bazaars
Reporters /Yi-Tzu Lai,Ching-Che Su,Kuan-Chi Liu,E-Shin Chou
Creative bazaars are now all the rage in Taiwan. According to a survey conducted by Bazaar.com, there are currently 527 bazaars in Taiwan. In addition to the traditional cultural parks and department stores where people can shop, there are also various bazaars in business districts, luring people to "taobao," which means finding precious treasure by yourself in Chinese.
Creative bazaars specialize in selling creative, fashionable, original, non-mass-produced but high commercial value commodities. Most of them are presented in the form of stalls. The age group of their consumers is also relatively low. Peggy, founder of Gala Gala Bazaar, stated that its major customer group is about 18-44 years old, of which 25-34 years old constitute the most.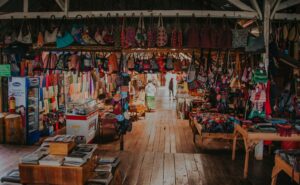 Supply and demand in creative bazaar
Shao-kang Luo, a professor of Marketing Management Research Institute of Business School of PCCU, pointed out that the reason for the rapid development of creative bazaars can be attributed to two aspects: supply and demand.
On the supply front, due to the progress of time, many young people have a lot of creativity and the desire to show their talents. In other words, they would like to start a business on their own. Moreover, portfolio career is now popular, so anyone who has a little talent or skill would also like to start a business, which in turn resulted in the endless supply of creative works.
As for the demand of the products, with the development of Internet technology, consumers now have more information about the products than ever, which also makes the consumers want to look for products that would demonstrate their taste in different aspects. Thus, creative bazaar has become a marketplace where people can buy and sell creative objects. More importantly, it aims to gather talented people and empower them with the tools and facilities to promote and sell their artworks.
Peggy: owner of creative bazaar
Gala Gala Bazaar is one of the most famous creative bazaars in Taipei. Its founder Peggy used to be an office worker who often drew and printed on her bag, and then used her spare time to set up a stall to sell her own art works. After doing it for a while, Peggy thought it was fun, and also if she has her own bazaar, there is no need to comply to her superior's order. "In a way, you are the maker of your own fate. You decide whether you will succeed or fail. If your work is not good enough, no one will buy it. On the contrary, if your work is phenomenal, people will appreciate it," Peggy said.
However, when Peggy set up a stall, she might be thwarted by bad weather. She  then realized that her business might be affected by the weather. So, she started to look for a venue for Gala Gala Bazaar on the third floor of a 3-story building. Since it was unlike other bazaars with a large outdoor place where it was easier to attract people, the number of people visiting her bazaar at the beginning was quite few. But as Gala Gala Bazaar's reputation rose, the crowds gradually appeared.
Fear of bazaar's owner: no one comes
Talking about the difficulties of managing a bazaar, Peggy said, "My biggest fear of all time is when no one comes." Peggy somehow felt guilty for the vendors who paid the rent to set up their stands in her bazaar, but didn't make any money because there will be times when few people visited the bazaar. Customers simply come and go. Then, using "live stream" comes to Peggy's mind. Even though there won't be any customer when she is live streaming, but through the social media platform, certain brands can be promoted, as customers will follow the fan page of her bazaar. 
Another difficulty is that opening a bazaar does not guarantee making a lot of money. Even though Gala Gala is a popular bazaar, it is not making much. Therefore, Peggy still has to take a part-time job to make ends meet. In fact, Peggy has been in the bazaar business for 3 years now and the biggest motivation for her is still "passion." Peggy hoped that her bazaar can help her customers find their interests while hanging out in the stands and hopefully, they can be inspired by the creative works of the vendors.
Bazaar offers more than business: It is a space for treasure hunting
Traditional shopping is different from that of the bazaar. Shao-kang Luo, a professor of marketing at Chinese Culture University, said, "We often hang around in the bazaar to hunt treasure." Luo also pointed out that people know what they want when they go to grocery stores or supermarkets. However, they might not know what they will buy when they go to the bazaar. Luo added, "The existence of the bazaar is not to offer a place only for making money, but rather a place for treasure hunting."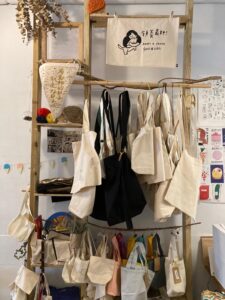 Uniqueness of product and atmosphere are vital
There are a lot of bazaars in Taiwan. Yet, how to stay in business for long is not easy. Luo mentioned that there is only one possibility for the bazaars to go out of business: they are not aware that their products are not original. Thus, it's very dangerous if the owners of the bazaar do not pay attention to the uniqueness of their products and the way they market their products.
Moreover, the atmosphere of the bazaars also plays an important role because most of the customers come to hunt treasure and have fun. Besides creating an ideal atmosphere for shopping, the products should have a certain theme that connect them with the place where they are sold.
Luo cited an example of a successful bazaar in Dadaocheng in Taipei City. He said, "The creative bazaars here can not break away from Dadaocheng's culture and history. Tea, traditional Chinese medicine and dried goods are all related to the local culture. Therefore it will be very strange to sell fashion clothing items in Dadaocheng's bazaars." Luo also emphasized the importance of creating an amicable atmosphere and incorporating cultural elements in the bazaars. In other words, creative bazaars should also serve the purpose of promoting tourism or they could be replaced easily.
Moreover, Luo pointed out a blind spot of most bazaars. A lot of the vendors in the bazaars are selling handmade earrings and leathers; thus, they all look the same in Sanxia Old Street. Luo advised the vendors of the bazaars to try to find their own specialty and theme. In his opinion, different bazaars should pursue different themes. In this way, customers can go to different bazaars on every weekend; therefore, creative bazaars will have the opportunity to thrive and prosper.
In order to chase their dream, many young people join in the flourishing industry of opening their own creative bazaars. However, they should pay close attention to their products' uniqueness and their relevance to the local culture. In this way, creative bazaars can be in business for long and also inspire people in the society to create a wide range of interesting products that are unique and well-designed.