Book Doctor: Endowing Century-Old Books with New Life
Reporters / Kuan-qi Liu, Ching-che Su
As the saying goes, "Books are like treasure banks storing wisdom that is passed down from generation to generation. Not only can books break through the constrains of time and space, they can also allow people to acquire wisdom from them and learn about their culture." However, books may be worn out as time goes by; fortunately, there is a group of people guarding these historical artifacts: the book doctors.
In Taiwan, there are a few private book doctors who try very hard to restore books in their personal collections. Moreover, there are also book doctors who repair books in large libraries, such as Taiwan Book Hospital of National Taiwan Library which is a place where one can find the largest scale of book restoration.
Tens of Thousands of Books to be Repaired
Since its opening in 1915, Taiwan Book Hospital of National Taiwan Library has set up a bookbinding room. It was not until 2007 that the bookbinding room and related book repairing technologies were all set to establish the Taiwan Book Hospital. This book hospital not only repairs books, archives, certificates but also maps of the Japanese occupation of Taiwan, and those of the Qing and even Ming Dynasties. As of now, there are tens of thousands of books to be repaired, which is indeed a demanding job for the book doctors. As a matter of fact, book doctors not only should have good skills in repairing, they must also be familiar with the culture, history, as well as the physical properties and chemical composition of the books.
Zhang Xiang Jian, who has worked in Taiwan Book Hospital for eight years, is one of the two official book doctors. The other one is the chief director of Taiwan Book Hospital, Mei Wen Xuo. These two official book doctors, along with fourteen volunteers, play an important role in protecting Taiwan's precious historical and cultural assets.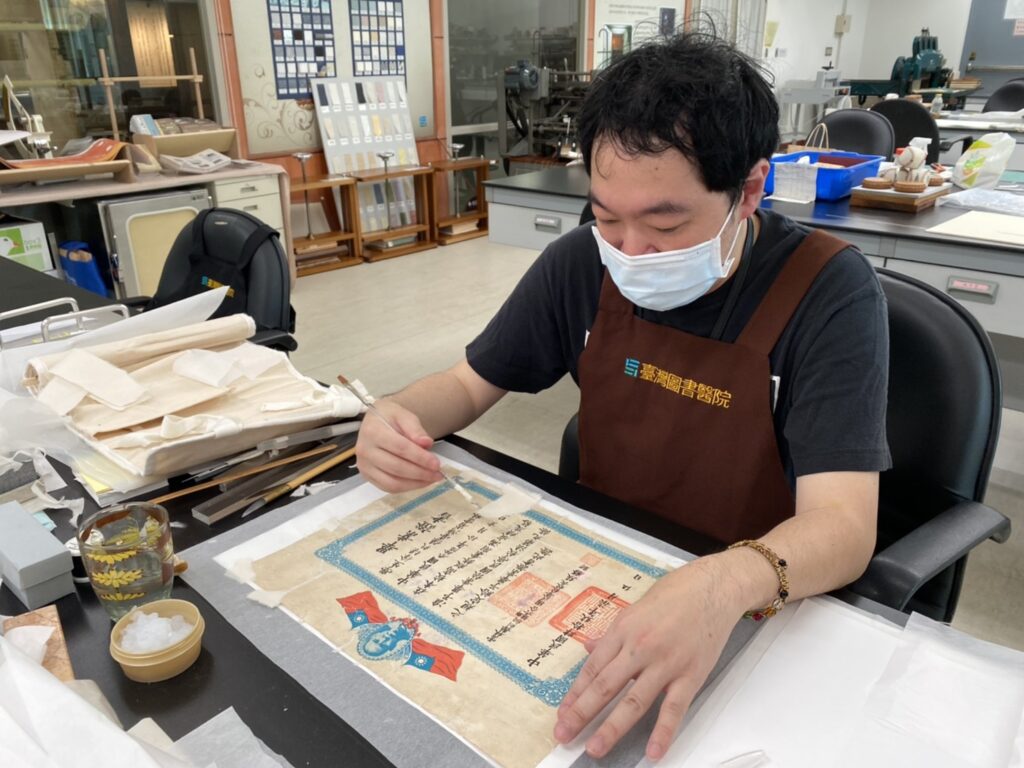 Because of the poor preservation of books, most of the books in this library have begun to acidify and turn yellow. Some of them are damaged by insects while others become moldy and brittle.
According to Jian, the principle of repairing these books is to "only repair the old and make up for the old." He added, "When repairing books, we try not to destroy the original state of the books and will never add any words or content to the books."
First Step Affects Success of Book Restoration
Moreover, Jian said that at the beginning of book restoration, the publishing time, binding form and damage level of the book must be confirmed before a plan for restoration can be made. Then, the type of paper has to be selected and the color and the damaged parts of the inner pages of the book will be restored. Later, the book doctor will use a soft 2B pencil to number each page in the book in order to ensure the correct order of binding after unpacking the book.
The next step is the cleaning process. Some books are in a very serious acidification condition, so they must be "washed" to restore their original color. When washing the books, book doctors must use their own deacidification liquid to soak the books in it, or spray the deacidification liquid directly on the paper.
" Cleaning can be very simple or complex," Jian said. He further pointed out that the complexity of cleaning depends on the condition of the books. Therefore, the first step of examining the book is really essential.
Filling Holes: a Work of Patience
Jian considered the most difficult part of the repair process to be "filling the holes." He explained that this can be a very time-consuming step. The book doctor must test the level of moisture first, then fill the gap in the book with the paste. In doing so, the paper will become wrinkled. Thus, the paper needs to be dried and flattened by a water suction machine. Jian said, "Every time you fill a hole, you need to repeat the process which takes about five minutes to fill a hole. If there are more than a dozen holes in a book, you will have to wait for a long time, so this work needs a lot of patience."
Moreover, Jian said that when the inner pages of the book are seriously damaged, he will have to add a piece of paper underneath it to prolong the life of the book. Also, the original paper will become two pieces of paper glued together. He said, "At this stage, you need to start mounting, because each type of paper has different properties, and the moisture that can be exposed to it is also different. Deciding on the kind of paper to be used requires professional knowledge and skill."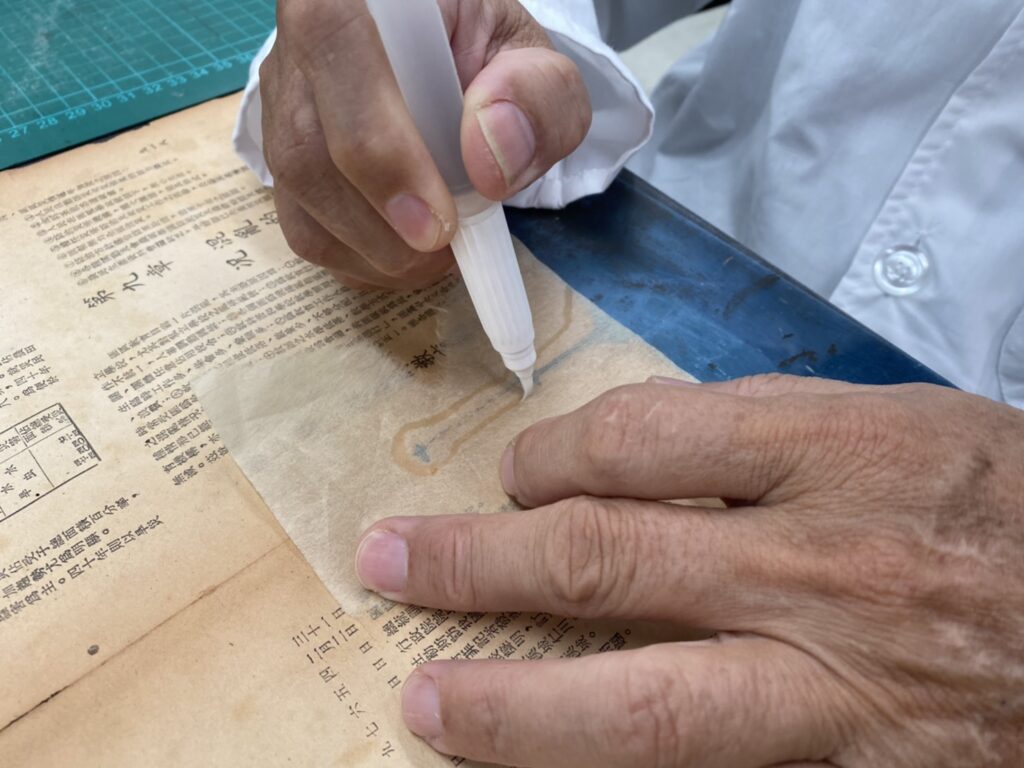 100-Page Book May Take a Year to Repair
Due to the complicated and laborious processes, it usually takes a long time to repair a book. Sometimes a book doctor can only repair a piece of paper a day. Jian stated that if the book is seriously damaged, a 100-page book may take more than a year to repair. Despite facing all these challenges, he proudly said that since the establishment of Taiwan Book Hospital, tens of thousands of books have been repaired. Moreover, the efficacy of the book doctors is determined by their speed of repairing books, and they are often required to repair a certain number of books each year.
Volunteer Spent 18 Years Repairing Books
Sui Sheng Liu, a volunteer, has been serving in the Taiwan Book Hospital of National Taiwan Library for 18 years. He had no contact with the related field before, but he found interest in book repair when he visited the Taiwan Book Hospital by chance. According to Liu, the work of a volunteer is similar to that of an official book doctor. "We are all responsible for repairing books, and the number of books to be repaired will be specified in the library, so volunteers have to bear almost the same responsibility as the book doctors," Liu added.
For Liu, books that are worn out become more durable and appealing after they are repaired which gives him the greatest sense of achievement.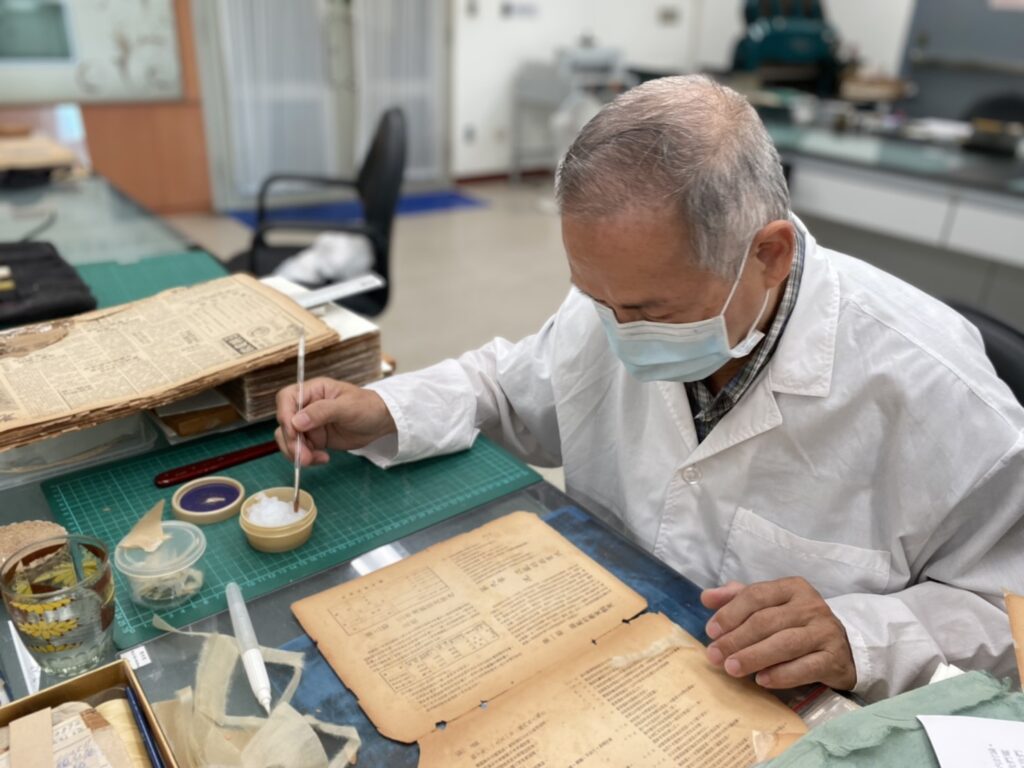 There Is Occupational Hazard To Book Doctors
When it comes to occupational injuries, Jian mentioned that a volunteer once forgot to wear mask when working and inhaled a lot of mold, which led to a lung infection, since most of the books that needed to be repaired were old and were often infested with mold. Liu also pointed out they would not wear gloves in the process of repair, since the brittle paper may be broken by accident. Book doctors and volunteers could also be cut by the paper every once in a while. Moreover, Lin would not recommend people who sweat easily to do the work, for the paper may get wet.
Whether it be Jian or Liu, these "book doctors" worked assiduously and contributed to the preservation of the precious books in Taiwan Book Hospital. With the inherited century-old skills, they are always striving to repair the cultural relics that record the history of Taiwan. Book doctors indeed give these books that are deteriorated through aging a whole new life, ensuring that the Chinese historical assets can be passed down from generation to generation.