Reporters / PEI-TING HSU, YONG-HUI CHING
 Nowadays, people hold different views about beauty. In order to jump on the bandwagon in fashion, some people buy lots of luxurious and elegant-looking clothes, jewelry, bags and so on. Others polish their nails as a way to show their good taste in fashion. In fact, nail salons are ubiquitous in Taiwan, as more and more people like to decorate their nails in gorgeous ways; while others who suffer from biting nails can likewise recover their nails through the help of the manicurists. In response to the trend and market demand, manicurists even offer some related courses teaching their clients manicure skills. With many people showing their interest, manicures have gained an important place in people's daily life.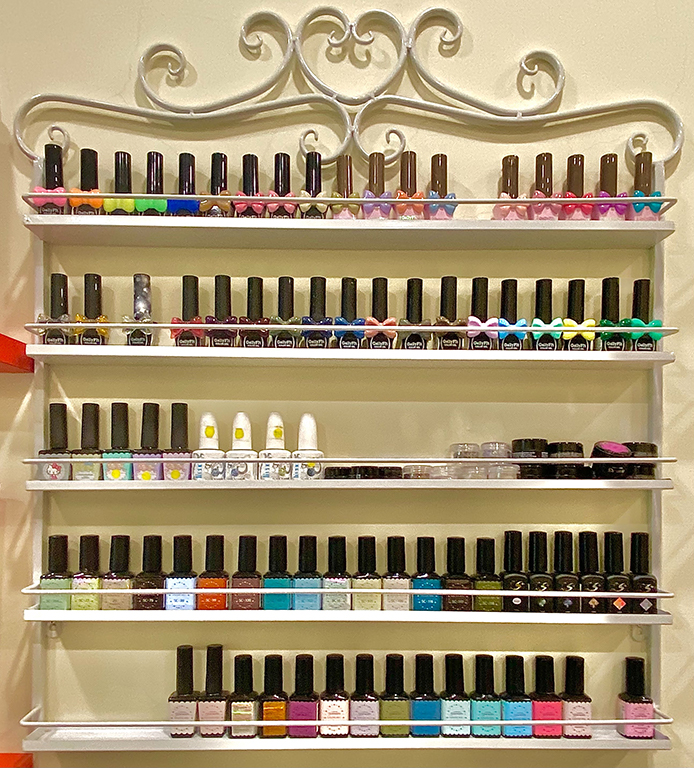 History of manicure
 According to historical records, nail art can be traced back to ancient Egypt and Tang Dynasty in China. In ancient Egypt, Cleopatra used Henna (指甲花) to dye her nails, symbolizing access to another world; while in Tang Dynasty in China, people used Impatiens(鳳仙花) to dye their nails to show nobility. Nowadays, doing manicures is commonplace. In fact, there are three types of manicures: acrylic nails, gel nails, and nail tips. Lulu Wang(王盈茹), a manicurist or nail technician, compared doing acrylic nails to filling teeth, since both the filling and nails are very hard in texture. As long as the nails are long enough, the manicurist can apply a three-dimensional decoration on the acrylic nails. On the other hand, gel nails are just like whitening the teeth. "There are three steps in applying gel nails. First, clean your nails just like washing your teeth. Then coat the nail with transparent paint and use blue light to solidify the paint," said Wang. Nail tips are also made by a manicurist who follows the customer's nail shape, so they are easy to stick on and remove as well.
 Procedures for manicure include cuticle cure(指緣護理), callus treatment(甘皮修整), filing(修甲型), nail buffing(打磨拋光), and gel treatment(凝膠流程). "Generally, you have to paint at least five times in a gel process," Wang said. By painting five times, she meant applying dehydrator, base gel, colored gel, and doubled top gel, each of which needs to be dried with LED lights to harden them. Wang also elaborated on the difference between colored gel and nail polish. Even if the colored gel comes into contact with the air, it will not be like nail polish which quickly dries. Each step needs to be completed carefully by the manicurist. Any negligence will affect the overall beauty of the nail work. There is no doubt that being a manicurist requires professional skill as well as creativity and an eye for beauty. When it comes to aesthetic vision, Wang said that she usually acquired her taste by observing other manicurists' work and reading Japanese nail magazines. Cultivating one's sense of beauty takes a long time. Claire Cho(卓宛俞), a high school student, started her own business as a manicurist at the age of 19. She pointed out, "With the rapid development of technology, I always find some manicure works that appeal to me from the Internet." By watching a wide variety of manicure works, the manicurists can gain aesthetic visions, practice with great taste, and come up with ideas to design unique nail works.
Persistence is key to perfecting skills
 Every industry inevitably has different occupational hazards. For the manicurists, some of the most common occupational injuries lie in shoulder and neck soreness, eye discomfort and so on. Xiao Ying, a Vietnamese manicurist who has been in Taiwan for 20 years, said, "When doing manicures, hands should be fast, eyes should be good, and skills should be awesome." Moreover, if the manicurist is not adept enough, she is likely to cause injury to her clients. "A lot of people think drawing lines on their nails is as easy as holding a pen, but it's definitely not so!" said April Chen, an experienced manicurist. She also mentioned that the simple procedure of drawing a nice painting on the nail actually took her nearly a year to perfect the skill. A beautiful nail work is therefore an accumulation of experience. Chen said jokingly that to become a good manicurist, one must have a little bit of obsessive-compulsive disorder.
 "Persistence is a must in the nail industry," Cho said. She also signed up for nail courses to strive for excellence and put what she has learned from each class into practice. Moreover, because of their passion for manicures, many manicurists kept on learning and worked hard to stay in this business. Some of them even become manicure instructors, teaching students how to design manicures. "When I met some outstanding manicure instructors, I wanted to be like them," said Cho. She recalled she once met an instructor who enlightened her in many ways and has inspired her to become an instructor who not only teaches the students the skill of manicure but how to develop an eye for beauty and perfect the skill with great attention to detail.
Listening to stories from clients
 The nail industry is not just a technical work but can be considered an alternative service industry. Both technique and attitude are needed to make clients feel comfortable and welcome. Besides doing nail designs, a manicurist also becomes a "confidant," whom one can tell secrets to in confidence. "They bare their breasts to me when they have problems or pressure," Wang said. She recalled that one of her clients even brought a bottle of wine to chat with her. Thus, "making friends with clients" has become one of her models at work. However, besides being a good listener, a conscientious manicurist must also meet her client's demands. That's the reason why Wang took part in many competitions and exams to improve her skill and provide better service to her clients. "Only when you explore new things can you meet the demands of your clients," she added.
 By connecting to their clients, manicurists may hear many life experience stories from them. "Even those situations do not happen in my life, the experiences which my clients shared with me seem to be my own and help me grow as a person. That's what makes this career fascinating," Chen stressed.
 The Ministry of Labor in collaboration with the nail trade union has conducted some professional nail training courses. Moreover, the verification of "Nail Painting Skills Category Test Certification" (指甲彩繪初級技能職類測驗能力認證) was also certified by the Ministry of Labor in 2021 to promote nail industry in Taiwan. Wang has joined in numerous competitions, took several exams and was awarded second place in the "TNA TNL Nail Removal Skills Competition"(TNA TNL美甲除毛技能競賽). She also got her "Senior Nail Master Certificate" (高階美甲師證書) in 2020. "Passing an examination is not necessary for me to open a nail salon, but what I want is not just to become a manicurist. I try my best to get job certificates in order to perfect my skills," Wang stated. In times of the pandemic, Cho advised the manicurists to pay more attention to hygiene. "I used to sanitize all the nail tools with alcohol first. Yet, I was worried about whether the sterilization was not good enough, so I bought the UV sanitizer boxes."
 Although manicurists do not live out of a suitcase, they need to maintain the same sitting posture and concentrate on one thing for an extended period. In this situation, they all agreed that it's a laborious occupation. Besides improving their skill to satisfy clients' needs, manicurists must be patient and studious. Filing, applying color, and painting on the nail are common procedures, like a duck takes to water. Only through hard work and constant practice can manicurists perfect their skills. For most of the manicurists who choose to stay in this job, clients' satisfaction after doing the manicure is perhaps the biggest motivation that drives them to pursue a career in this business.