Resurrection of Handmade Blue Dyeing in Sanxia
Reporters/HO-LUN CHANG, TING-CHI WANG, I-JU LI
As COVID-19 pandemic rages all over the world, many international fashion weeks have announced to either postpone or cancel their events. However, Taiwan's Taipei Fashion Week AW21 ended successfully with the theme of "sustainable fashion" in March, 2021. Among the fashionable brands, Taichung's Hakka brand with "blue dyeing" (藍染) as its design style was introduced for the first time to promote the beauty of blue dyeing to the public. However, when it comes to blue dyeing ,Sanxia's (三峽)blue dyeing is peerless. In fact, Sanxia, a district in New Taipei City, is the birthplace of "blue dyeing" in Taiwan. In order to pass on this traditional technique, a group of Sanxia residents have dedicated their efforts to revitalize the heritage of blue dyeing culture.
Cultivating local culture
Sanxia, formerly known as Sanjiao Chong (三角湧), has been the most important cloth dyeing center in northern Taiwan since the Qing Dynasty. Due to its ideal geographical conditions, Sanxia boasts of its abundant Strobilanthes formosanus (臺灣馬藍), a plant which is rich in indigo. Thus, blue dyeing industry has boomed in Sanxia. In ancient time, Sanxia Old Street was called the "Dyeing Street" (染坊一條街), since many historic archways about the dyeing industry, including "Lin Maoxing Dyeing Workshop,"(林茂興 染坊) "Chen Hengfang Dyeing Workshop," (陳恒芳染坊) "Golden Lianchun" (金聯春) and many others can be found there. Later, in the 1920s, with the advent of chemical dyes, traditional dyeing techniques were gradually replaced.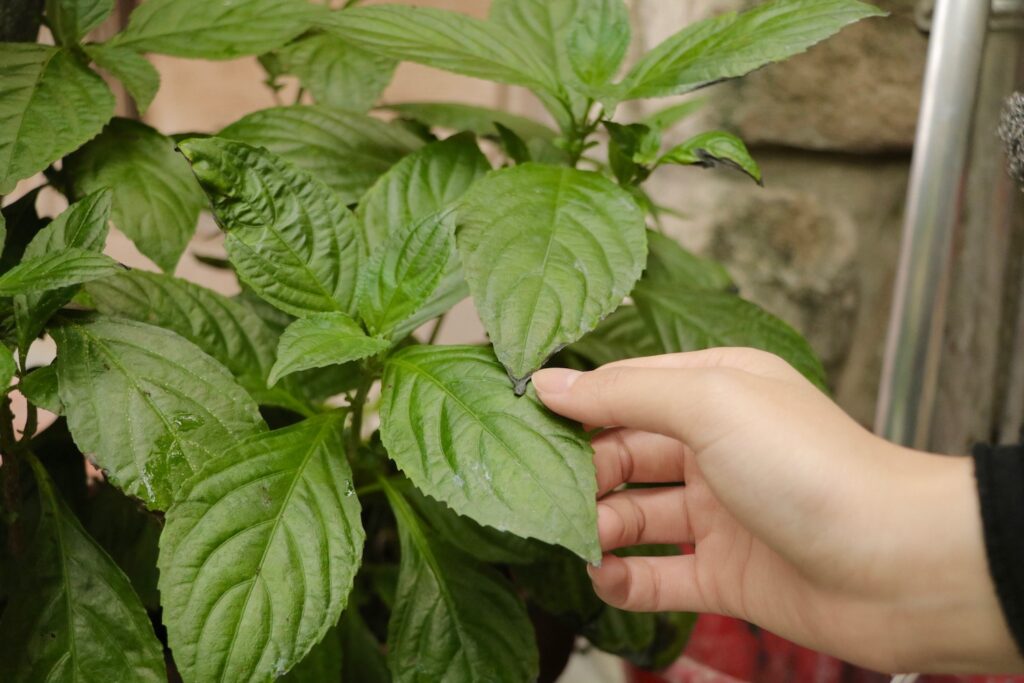 The local culture and history organization in Sanxia hoped that through the preservation of local culture, children can understand more about their hometown. The driving force behind such effort is the Sanjiao Chong Cultural Association(三角湧文化協進會). Mei-ling Liu (劉美鈴), chief of staff of the association, said that although she was not familiar with blue dyeing, but because of her love for her hometown, she organized a group of women in Sanxia to retrieve the traditional craftsmanship of blue dyeing. With the help of some experts, the local blue dyeing culture has revived. A few years later, with the joint effort of people from different walks of life, the "Blue Dyeing Workshop(青出於藍染工坊)" was established, and the exhibition hall which was formerly deserted was renovated into today's visitor center.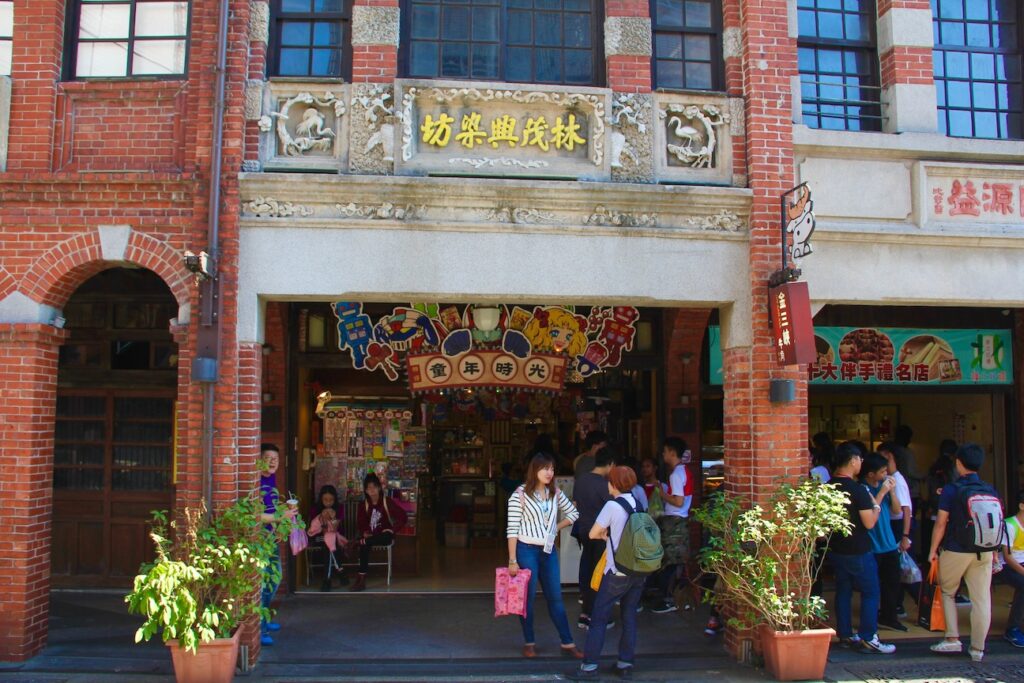 Path to revival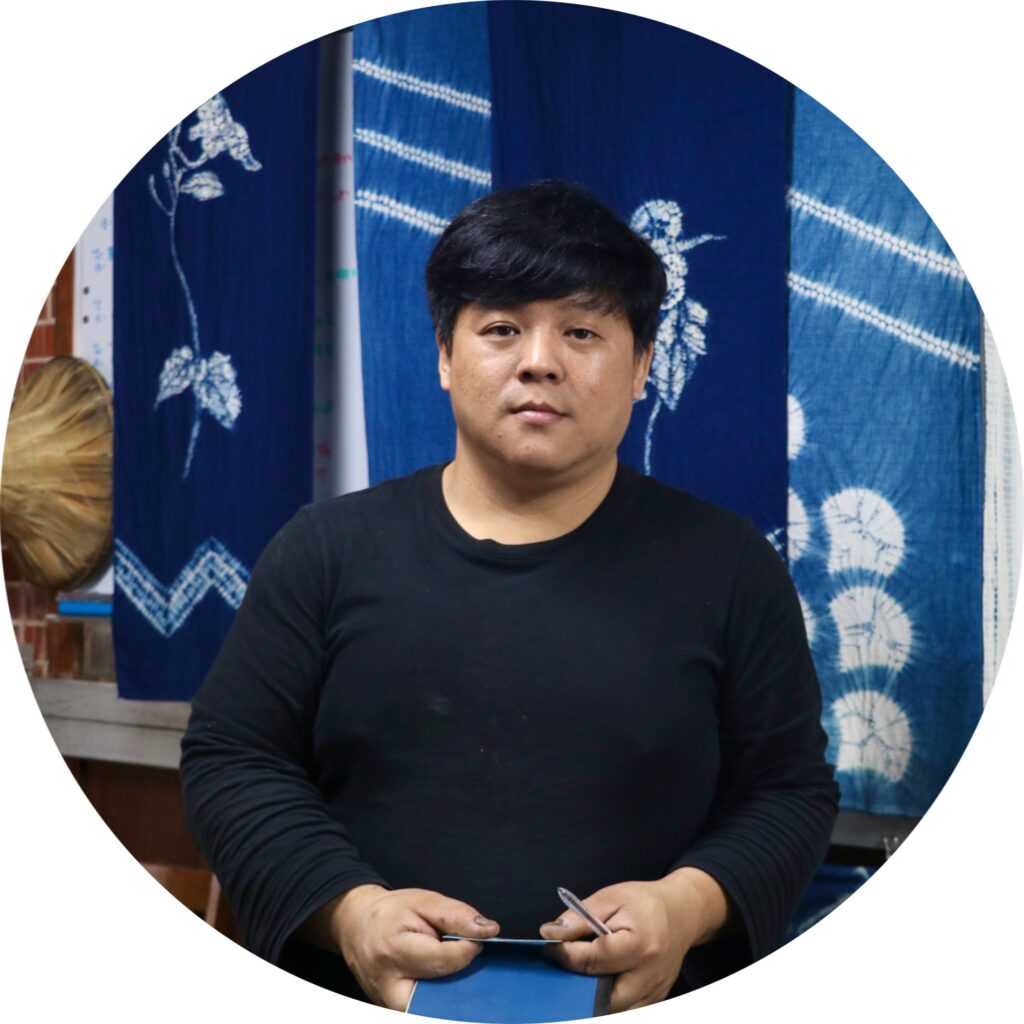 Yong-feng Liu(劉永豐), store manager of the Blue Dye Workshop, is a native of Sanxia. He was originally a sales manager of overhead projectors, but when he came into contact with blue dyeing by chance, he was fascinated by its beauty. Seven years ago, he resolutely left his job, returned to his hometown, and began to revitalize the blue dyeing industry." I used to know nothing about my hometown. But when I fell in love with blue dyeing, I started to learn the skill by enrolling in the local college," Liu said. Later, the more he studied, the more he learned about the characteristics of Sanxia blue dyeing which prompted him to leave his job and return to his hometown to help in the development of blue dyeing industry.
In reviving this traditional craft, Liu has encountered many problems. Due to the lack of funds, the original exhibition hall was dilapidated. With his enthusiasm to revitalize the heritage of blue dyeing, he decided to renovate the place.Liu explained that the current location of the workshop was originally built to promote blue dyeing. Sanxia District Office first asked the blue dyeing teachers to run the workshop, but no one wanted to take on the responsibility. Liu and his partners who were interested in the project were not afraid of the difficulties, so they shared the costs and difficulties of managing the workshop. It took them a long time to attract tourists to come to Saxia and appreciate the beauty of blue dyeing.
Traditional crafts combined with Cultural and Creative Industries
The art works in the workshop are all made by the master worker, so each blue dyeing piece is unique. Under the guidance and instruction of the master worker, tourists can dye whatever patterns they want. "Tie-dyeing(綁扎染)" is the easiest to learn as compared to other techniques. In fact, a rubber band has the function of preventing dyeing. ''Depending on how the rubber band is tied, different patterns can be dyed,'' said Liu. Tourists can soak the tied cloth in the dyeing vat (染缸) and knead patiently to allow the dyeware (染料) to penetrate into each fiber. Through the oxidation process, the original green dyeware is oxidized to blue. Then, tourists have to repeat the same process three times. Finally, they have to take off the rubber band and let it dry for 30 minutes to make a blue cloth of their own.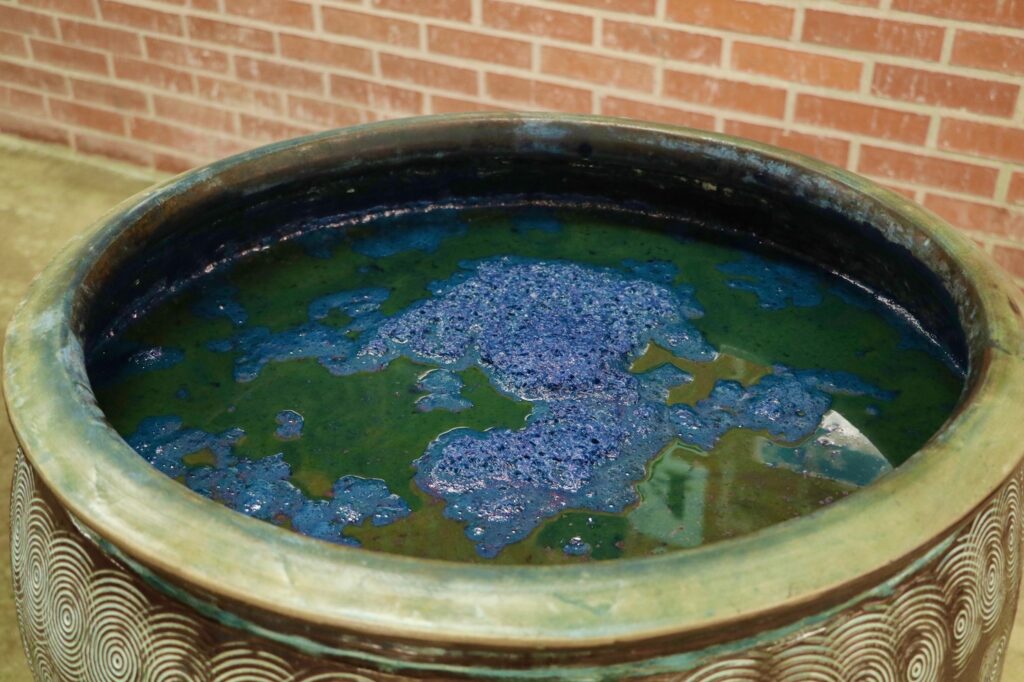 The older generation of Sanxia' s blue dyeing masters hope that more local young people can take part in blue dyeing renaissance, so as to revitalize the traditional skills. Gan Le Culture Art and Nature (甘樂文創) is one of the representatives of local fresh blood who put out all their effort to revive blue dying industry. Bo-an Chen,(陳柏安) project manager of Gan Le Culture Art and Nature, said that it mainly combines blue dyeing with other cultural and creative industries, such as dyeing cloth activity with serving meals, guiding tourists to old street, etc. Through the packaged itineraries, visitors can have more experience touring around and even understand more about Sanxia. It is their hope that this can become a cultural and creative social enterprise which is good for the local community, and would eventually promote the sustainable development of cities and villages through the participation of tourists in local culture.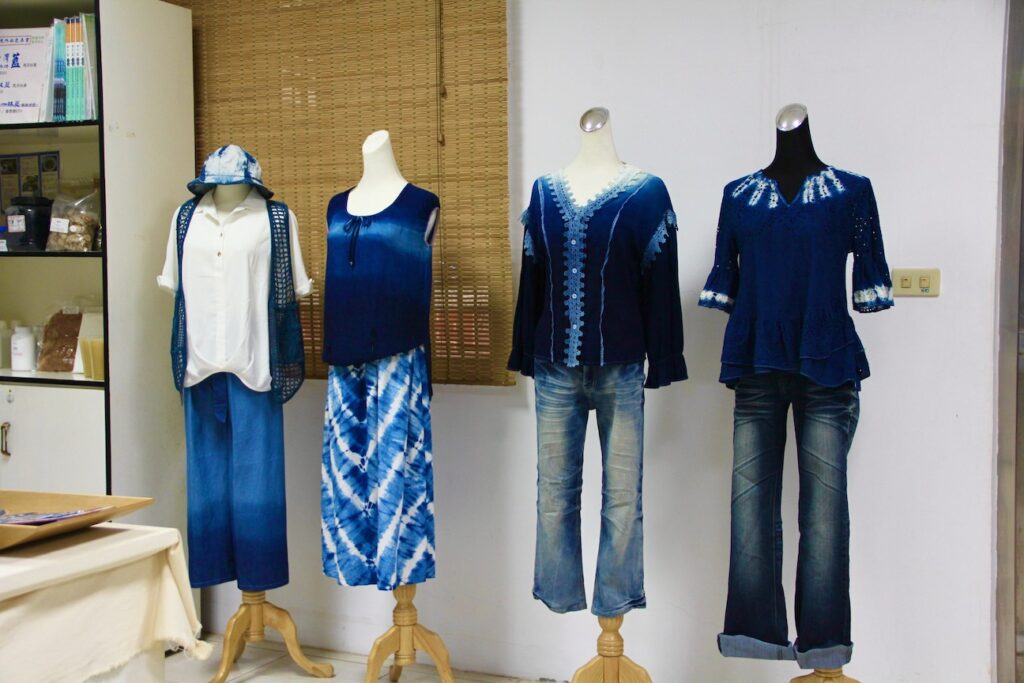 Bringing new life to traditional craft
When Liu recalled the first two years of the establishment of the workshop, he said that there were few tourists at that time and it was indeed very difficult for them to run the business. However, he still persevered to help revitalize blue dyeing in Sanxia. Liu added that the traditional technique of blue dyeing is not exactly the "sunset industry". He believed that combining the production process of blue dyeing with the ecological environment to promote local economic crops and then plant Strobilanthes formosanus (臺灣馬藍) below is in line with the environmentally friendly principle of "Under-forest Economy". Moreover, visitors can also enjoy the fun of collecting raw material and experiencing the process of blue dyeing.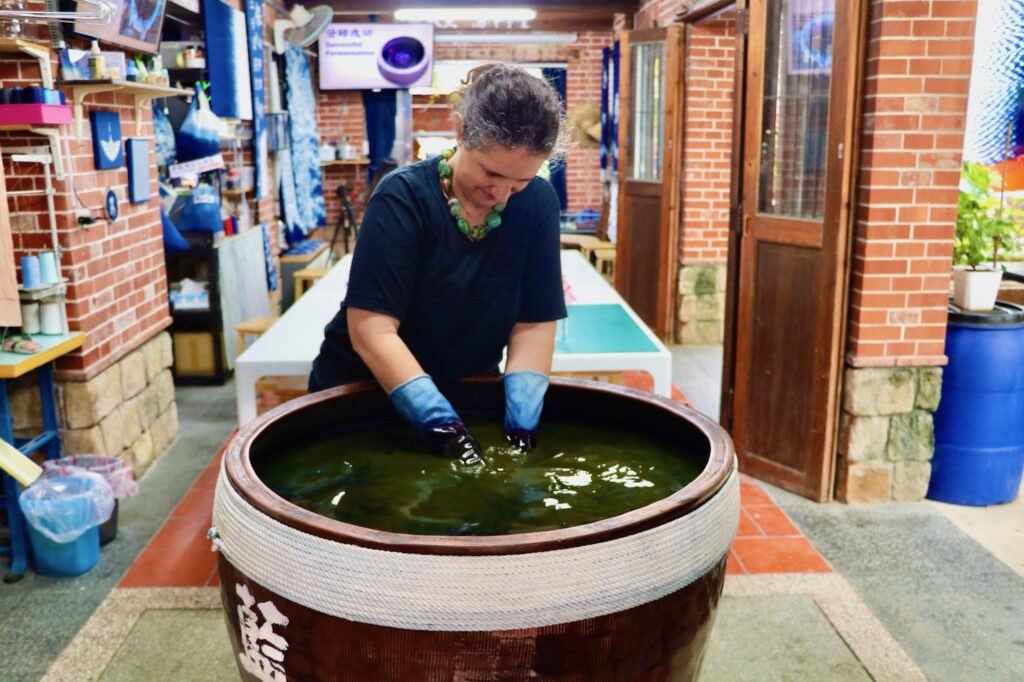 Tourists from all over the world come to experience blue dyeing culture in Sanxia . They took a lot of smiling photos and shared them with their foreign friends, which in turn helped to promote local blue dyeing culture. By the same token, a group of young people who love blue dyeing have returned to their hometown and tried their best to preserve this tradition. In order not to allow the traditional art of blue dyeing to wane along with the passing of time, they are trying their very best to make blue dyeing restore its past glory.