TOEIC: to Take or Not to Take
By Chang, Chih-chuan (張芷娟), Wu, Chih-yen (吳芝妍), Hu, Ge-fei (胡格非), Lee, Ting-fung (李亭芳)
   The English graduation benchmark policy has been executed in most universities in Taiwan since the Ministry of Education began implementing the policy in 2003.
  Most universities accept the Test of English for International Communication (TOEIC) score as proof of their students' English proficiency, and require their students to achieve the TOEIC benchmark before graduation. At present, more than 90% of universities in Taiwan have set their own TOEIC benchmark standard.
  Although the policy has been widely implemented across Taiwan, the reliability of the standardized English test like TOEIC is still a controversial issue. Most people can't help but wonder about the effectiveness of TOEIC benchmark. 
  In early 2018, National Chengchi University (NCCU) abolished its English graduation benchmark.  A-Han, Lin was one of the main advocates for its abolition at NCCU. He believes that universities should inspire students to learn, and that if the students successfully completed their English courses at school, there is no need for them to take the TOEIC test.
 TOFEL, GEPT, IELTS are also acceptable certifications in most Taiwanese universities, not just TOEIC. But among them all, TOEIC may be the most useless one.
Differences between TOEIC and other tests
"TOEIC is more like business English, which means it concentrates more on English for business purpose and it's not useful for everyone; thus it's not appropriate to be used to reflect a student's English ability," Lin explained.
  However, students in Taiwan are more likely to take the TOEIC tests rather than other tests. Emily Hsiao, an English major at Shih Hsin University, thought that the test fee was one of the reasons why, since TOEIC is considerably cheaper than other tests. "Another reason is that TOEIC test is relatively easier than other tests. If it is universally accepted in society and students do not face any hard times getting the certificate in job hunting, then students might not have any incentive to take other tests," Hsiao said.
  Jack Fang, a lecturer of the School of Lifelong Learning in Shih Hsin University, believes that the English graduation benchmark policy is based on good intentions. Influenced by the trend of globalization, the policy's intended goal is to increase the competitive edge of the students in Taiwan.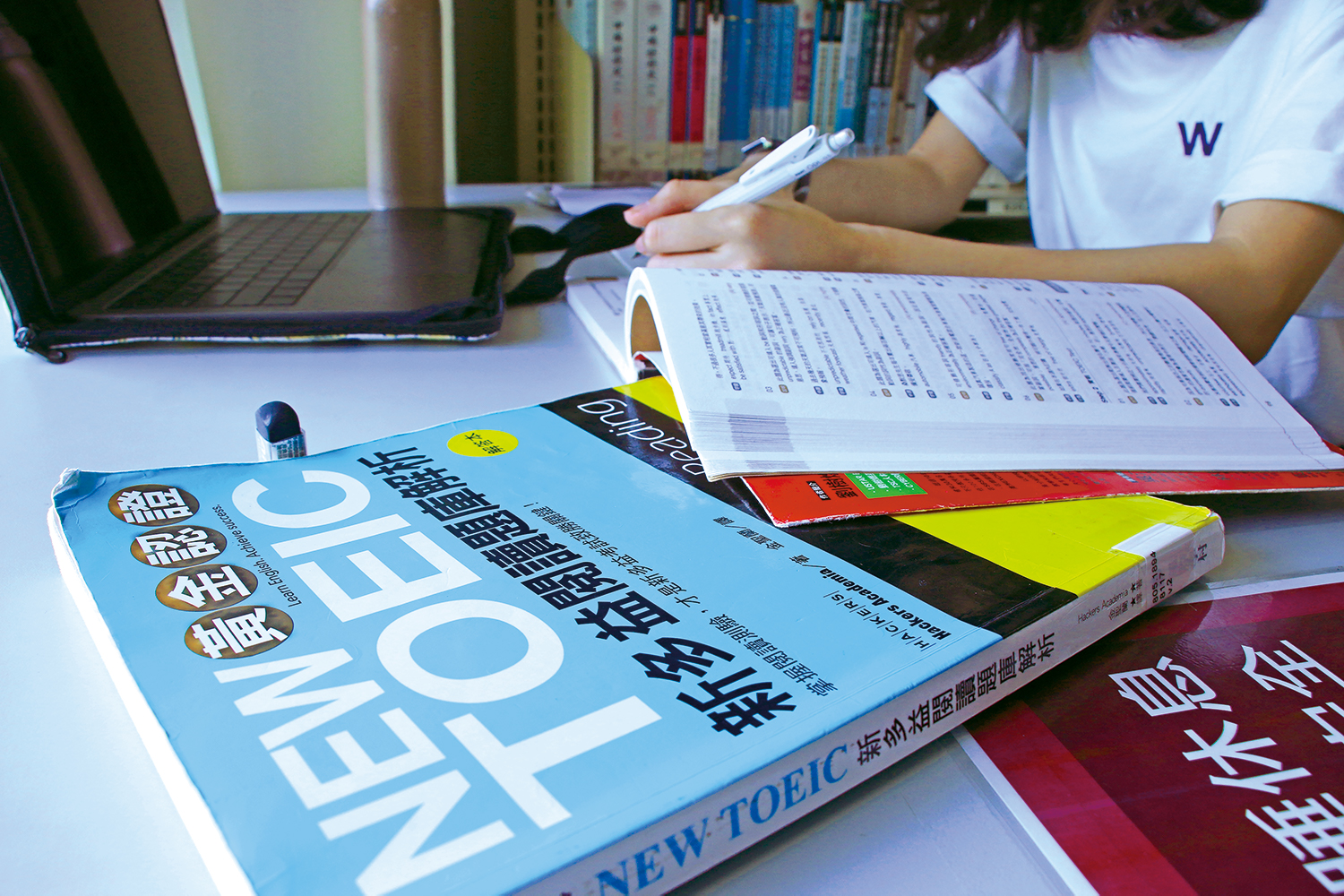 TOEIC pushes students to study
  In a way, the implementation of the policy has increased students' motivations for English learning. According to Fang, without requirement like this, students may not study English at all. "It's an imperfect strategy, I admit," he said. "But it's still necessary."
  However, the effectiveness of these tests is still limited. In general, speaking and writing skills are more frequently required in the workplace, yet these two skills take less priority in the TOEIC test. Critical thinking and a student's ability to use vocabulary is not reflected in their TOEIC score.
  Ricky Yen, a lecturer teaching TOEIC at the International Center for Language Education, agreed that applying a uniform standard established by the school may not be suitable for everyone. As students from different universities demonstrate different levels of English ability, the effect of this policy should vary with different individuals.
  "Even after the New TOEIC test, which is a new version of the TOEIC Listening & Reading test released in 2018, students' ability to take the test still matters," said Yen. "It may not necessarily reflect a student's English competence."
TOEIC's role in Japan
 In Japan, the TOEIC test is also commonly used as a benchmark for English ability when applying for a job. However, it is not commonly used as a graduation benchmark.
  Waseda University in Japan adopts a different way to examine their students' English ability. Tsing-Hua, Tseng, an international student of Waseda University, said that there is no foreign language test required to graduate in Waseda University. "But in some departments, students are required to be exchange students in order to graduate," said Tseng. "So in some ways English proficiency is still needed."
  Implementing the English graduation benchmark policy is only one of many ways to examine students' English ability. Most people agreed that the test performance of TOEIC tests can't truly reflect the English competence of a student. But if such a testing system can't reflect a student's English proficiency, then what's the point of using it as a graduation threshold for university students to take? Nevertheless, the English graduation benchmark policy effectively motivates university students to study English more diligently.
  While the implementation of the English graduation benchmark policy of TOEIC test may not be the best way to examine a student's English proficiency, it does push students toward developing a positive attitude in English learning.
  Maybe one day there will be a better way, but until then, most students still have to take the TOEIC test.